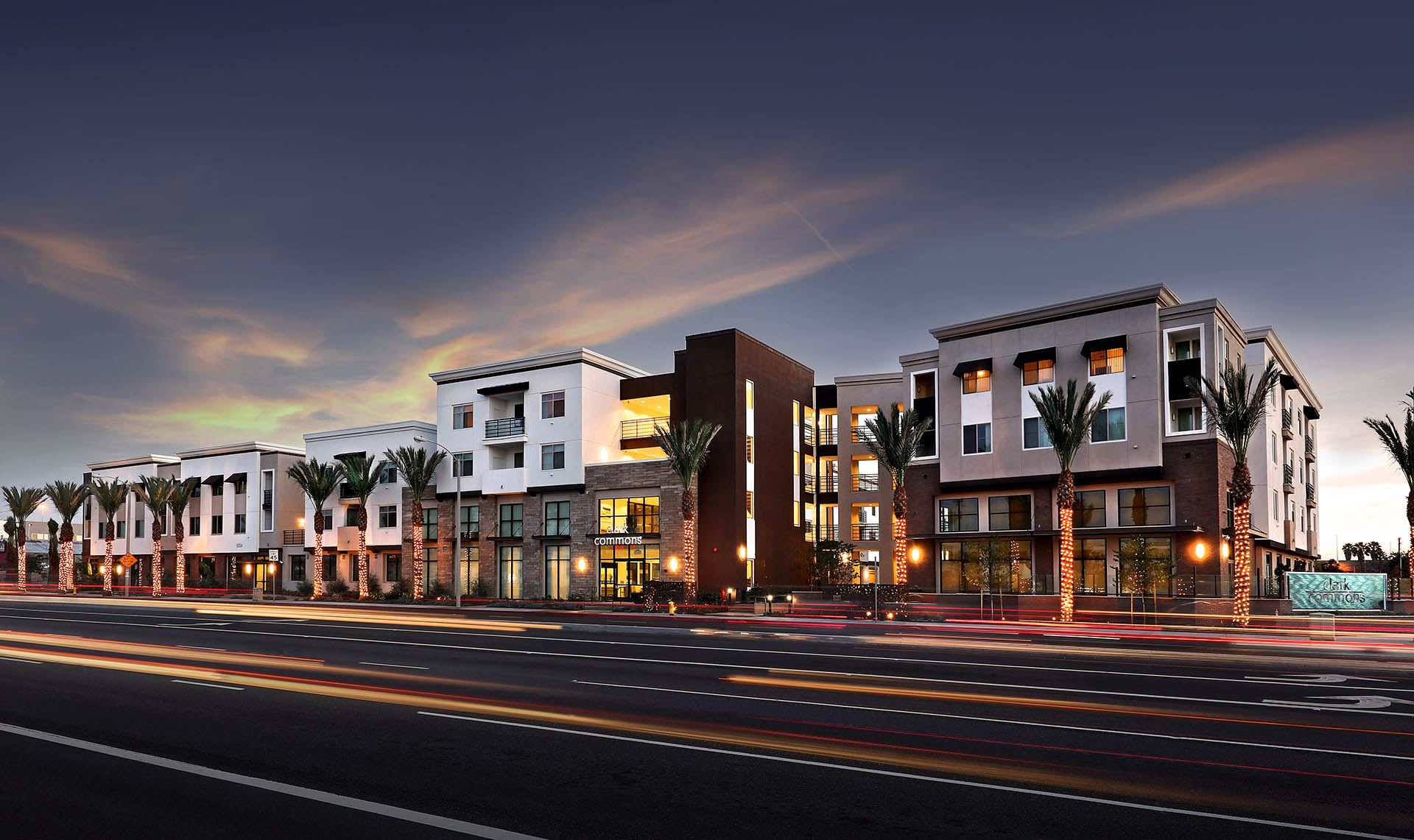 Clark Commons Finals for 2017 Best in American Living Awards
Danielian's Clark Commons in Buena Park Receives Recognition for its Contemporary Design and Affordability
Clark Commons, an urban infill, affordable, multifamily project serving the community of Buena Park, is a finalist for this year's 2017 Best in American Living™ Awards (BALA) by the National Association of Home Builders (NAHB). Award winners will be formally announced during the annual NAHB International Builders' Show in Orlando, Fla.
Designed on an old blighted industrial site, this amenities-rich, 70-unit apartment complex now provides safe, affordable housing for local families. Inviting open floor plans feature private outdoor decks and flexible living spaces. Edging a major urban revitalization district, this project's creative design balances vibrant, pedestrian friendly streetscapes with commercial aesthetics like double volume storefront windows. These energy efficient, LEED GOLD, affordable housing units introduce market-rate quality apartments for the surrounding hospitality, retail, restaurants, and auto repair shop workforce.
A new public park borders first-floor apartments allotting direct access Private amenities include tot lot, seating, barbeques, fire pits, and picnic tables that will encourage family and community interaction. Jamboree's primary goal was to encourage advancements in academic achievement, career development, and an increased quality of living for this community.
A community center is located on the ground floor retail component where community partners will provide programming and assistance for both resident and local community use. Jamboree places a high importance on creating an environment where families can thrive and attain a sense of community and safety.
Clark Commons is up for awards in both the Infill Community and Affordable, Multifamily Community of The Year.
Now in its 34rd year, BALA recognizes outstanding achievement by builders and design professionals in all sectors of the residential housing industry including single-family production, custom, multifamily, affordable, remodeling, community and interiors. BALA is built on the principle that all great homes start with great design, no matter cost or size.