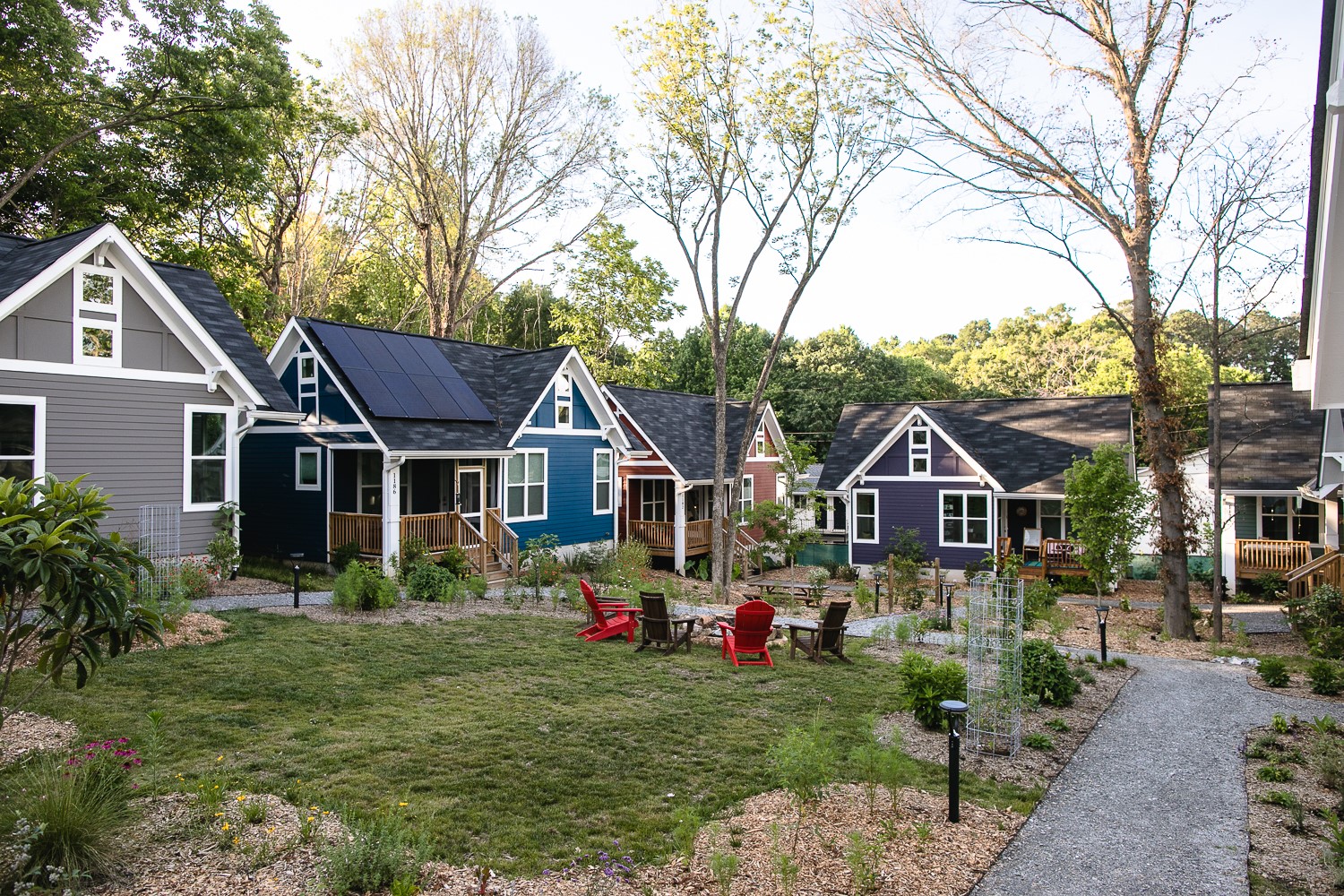 *Above photo of Cottages at Vaughan, not a Danielian Associates project, is used by permission.  This article was written by Daniel P. Gehman based on his experience at the 2022 ULI Fall Meeting "New Housing Paradigm" Forum
I can't recall a time when a ULI program simultaneously got my heart pumping and moved me emotionally to tears, but that's exactly what happened during the New Housing Paradigms Forum on Tuesday afternoon at the ULI Fall Conference in Dallas. What an amazing group of passionate, purposeful, and deeply community-focused providers of unique forms of housing. I came away deeply inspired, pumped up, and eagerly seeking to become a part of this think tank with ULI.
While the general array of projects was targeted at the most entry-level end of the housing spectrum, the program included market-driven communities as well. A series of presenters ranged from providers of pre-fabricated kit-type "emergency" shelters and conventionally built for-sale tiny homes to non-subsidized "electively affordable" traditional walkup apartments. From a tiny home transitional housing community on a challenging site in Los Angeles (arguably the unsheltered capital of the country) to a minuscule petite home community in Atlanta, it was crazy satisfying to see projects brought to reality that can inform and inspire many followers who can collectively alter the dominant paradigm.
All the speakers had great content and wonderful ideas, but it was Pastor Wayne Walker of OurCalling in Dallas that held me riveted as he walked (charged?) through his proposed large village providing permanent housing plus all the desperately required services to care for the least of the least—our formerly unsheltered neighbors who are ill, feeble, aged, and mobility impaired. Wayne talks the talk like a street fighter and has definitely walked the walk—he was able to graphically and persuasively illustrate what unsheltered life is really like for those other than the "hip homeless," and his group was willing to stand in the gap for them. It was amazing. When he finished his presentation, I wanted to stand up and shout "Amen!" and I now kind of regret I didn't.
Before I could settle down much, Will Johnston from MicroLife Institute launched into his presentation. With passion and conviction to rival Wayne's, Will took us on a journey through the development of a tiny home-for-sale community in Atlanta, where he has produced a handful of adorable five hundred-square-foot dwellings in a bungalow court arrangement. There were no subsidies at all in his project, and he provided below-market ownership opportunities for people inclined to pursue a simplified lifestyle in order to own some property that could help build wealth over time. It was so all engaging when Will concluded, I was so exhausted by this point in the day I practically needed a nap!
Following this series of awesome presentations, all participants engaged in a group "information harvest" of ideas related to specific questions, the focus of which emerged as:
"How can we carry this message to our own communities and really begin to move the needle in terms of what can be done? How can we impact our agencies and drive real reform of discriminatory regulations?"
The New Housing Paradigms Forum was a great afternoon of conversation, with voices from across the country weighing in. Collectively, we were all thinking (and saying) "We need a lot more of this." Shoutouts to Amy King from Pallet, Dan Bodner from Quickhaven, Madeline Reedy from City Square, and Beth Silverman and Philip Payne from Lotus Campaign—all great people doing great work. Also, many thanks to the Forum Leadership: Tom Hester, Charly Ligety, and Dennis Steigerwalt. I'm already thinking about and looking forward to the ULI Spring Meeting in Toronto, and gathering again with this extraordinary group of people, and keeping the heat on these critical issues.