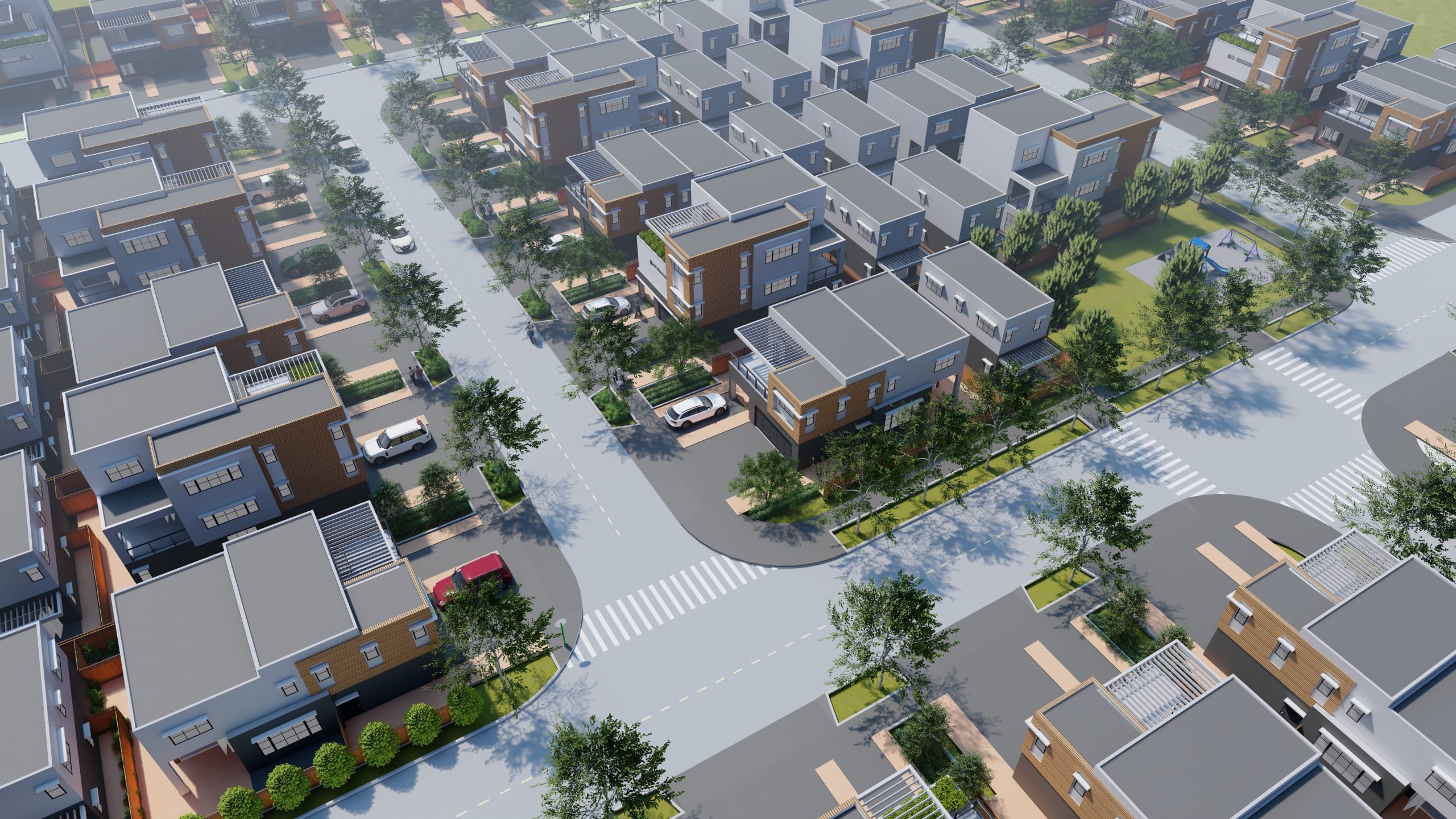 Everyone has an eye on the housing crisis, and an opinion to go with it. At this moment there doesn't appear to be any "magic bullet" solution to the problem, even though many are being proposed, including legislative initiatives imagined to streamline the approval process and open more existing properties to redevelopment with multifamily communities. We've also been casting a watchful eye toward California cities as they update their Housing Elements to demonstrate how they will accommodate their Regional Housing Needs Assessment—the number of homes they are expected to produce over the next eight years. Many of these efforts include overlay zones that make it easier to develop housing and mixed-use projects on underperforming retail sites, for example. The keyword here is "easier."
There are many fine non-profit developers who are producing housing for families at the lowest reaches of the income spectrum, using subsidies or tax credits to offset the cost of constructing the buildings so that the rents needed to cover operating expenses can be significantly below market.  These developers are doing wonderful work that is absolutely essential as a part of the overall housing food chain; however, it is really only addressing a small part.  There are a vast number of somewhat higher-wage earners who don't qualify for subsidized housing, yet are greatly stressed by skyrocketing rents.  This "middle" market, which is bottomless, has been largely overlooked in recent construction cycles.  The number of units required to trim the housing deficit is at a scale that can only be satisfied with a market driven solution.
There is a change afoot. A number of for-profit developers have begun to embrace a starkly different model for producing apartments that can hit the market at rents noticeably below prevailing, and future residents have been lining up around the block to lease them. This is an excellent emerging trend, on which we would do well to double down.
To be successful in this endeavor, there are some key fundamentals to embrace.  Below are seven ideas to help boost the viability of these "market driven attainable solutions," ranging from entry-level to brazen; some might even be considered outrageous.
You may not need your father's Oldsmobile: the beginning of controversy here is to soberly assess that not all housing can or should be the same. Different life stages and income levels require different solutions—sometimes radically different. Consider personal transportation: not everyone drives the same quality car, and no one would expect everyone to. Some budgets can support a ten year old pre-owned sedan, others a modest economy car, and so on up the line to the stratospheric hypercars. The same paradigm applies to housing, and right now a lot more used cars and econoboxes are needed than luxury image rides. I've heard it said that no one is delivering "Class B" product because it doesn't "pencil." Well, it certainly won't if it is conceived with Class A appointments. In other words, if someone needs to pay less, the way to get there is to give them less—like a simple, modest dwelling without many bells and whistles—the Spirit Airlines model of housing. Maybe someone doesn't really value solid surface counters, high end appliances, even in-unit laundry if it nudges the rent up beyond a comfort threshold. If it costs less to build, it costs less to rent.
Go where you're wanted: swimming upstream is expensive and time consuming. It has already been suggested that easier agency approval processes can reduce the predevelopment time required for a project and get shovels in the ground faster, which is a project cost savings. There's a reason why communities in "high barriers to entry" markets are among the most expensive living options. We need those projects, too, but they're not going to work for vast numbers of people. So, it is a reasonable suggestion to search for the municipalities which actually welcome multifamily communities that can accommodate more of their citizens at all income levels, and therefore simplify the approvals process for them, or even make them "by right" in certain radical cases. Less red tape means less rent, pure and simple. As a famous wise teacher once said, "It is hard to kick against the goads." So don't.
Flaut convention: try something different! Two alternate dwelling paradigms have been gaining steam lately, and they're really not new at all: micro-units and co-living. Tiny units are an attraction to people just starting out, usually single, who spend most of their non-working hours away from the place where they sleep and keep their clothes. Micro-units nicely solve the fundamental issue of needing somewhere to crash at night, but at a price point that suits the wallet, allowing for enough "discretionary funds" to fuel one's active social life. Co-living is a modern renaissance of the ancient paradigm of the boarding house—one rents a room and shares the common social spaces with a handful of roommates. It is just a tiny step up from dorm living but brings with it automatic access to camaraderie. Many co-living communities have a themed focus, to appeal to a swath of residents in the same industry, or with common shared hobbies, for example. And yes, renting a room is less than renting even a micro-unit in most cases. Remember the car analogy from above; this is the used car element.
Don't build bedrooms for cars: structured parking of any form is extremely expensive. Surface parking is an egregious waste of real estate. Therefore, in addition to looking for municipalities who will approve a proposed project in a hurry, be on the outlook for transit-rich communities. Owning a car is a unattainable luxury for many people, and they will choose to live in well-served places where they can enjoy the bump to their lifestyle they reap as a result of not paying $750 or more per month for a private vehicle. Communities can invest in a few project-branded ride share vehicles residents can subscribe to; ride share apps are available for longer trips when absolutely required. Clearly this is not for everyone, but it can be very meaningful for a large number of people. And by not devoting precious site or expensive building area to car storage, the rent can be lower.
Let the neighborhood be the amenity: not every residential community needs to be a luxurious resort. Particularly in denser and more colorful urban/surban settings, the immediate vicinity of a community affords endless opportunities for recreation, services, and even exercise. When your dwelling space is smaller, it follows that you just want to spend more of your leisure time outside of it. Perhaps in a given community it is more about bike and walking trails than bars and shopping, but maybe it's both. Lavish amenities are sexy on the prospective tenant tour, but they also accumulate to the rent bottom line.
Give a hand up to the little guy: the previous few points focused on generally larger, often more urban communities. There's also a wonderful opportunity for the production of attainable dwelling units on existing single and two-family lots. Several states, including California, Minnesota, and Illinois, as well as many individual municipalities, have approved ordinances allowing Accessory Dwelling Units (ADUs) on existing properties leading to gently fuller neighborhoods. Because their size is typically limited, they may or may not have parking, and they certainly aren't amenitized, their rents are typically lower. Plus, these properties can be developed by mom-and-pop scale owners in neighborhoods all over, and legally. (I lived for a while in Santa Barbara, where the proliferation of illegal dwelling units were a bane to city government, but also notoriously difficult to enforce.) A logical step up from the allowance of ADUs on existing sites is to just allow more units, period, on single family lots. The Los Angeles Mayor's office recently staged a design competition to harvest ideas for this type of slightly denser housing, which may actually lead to policy change that could help bring it about. The paradigms sought as solutions in the competition brief are not currently legal in California – how's that for irony?
Allow on-site advertising: told you this was going to get controversial. We underwrite everything in this country through corporate sponsorships and advertising: why should this principal not apply to housing? There's a property in downtown Los Angeles that boasts what I believe is the largest digital motion LED advertising wall in the Western U. S. The revenue from this giant billboard, which also contributes, Times Square style, to the vibrancy of its neighborhood, helps the project to pencil. There are examples of this all over the world, from Hollywood to Istanbul. If there's a billboard or fascia sign on my residential building, is that the worst thing in the world? If the resident's option is to allow the advertising or pay another $100 in rent, the choice is a no-brainer.
Creative, equitable thinking is what's called for now. Understanding there are many factors not considered in this argument but it is a start. More and more developers are awakening to the appeal of producing new housing communities that accommodate, comfortably, scores of people who have been overlooked for a long time by the development community. The zeitgeist of the current housing predicament demands that we, as an industry, "Hospice the Old Paradigm, and Midwife the New." Let's house America.